Historic Buildings listed by the Tasmanian National Trust page 2
Table of Contents
[Previous Post:
National Trust Tasmanian Heritage Register 1
.... Next Post:
National Trust Tasmanian Heritage Register 3
]
Georgian and Gothic Revival Style buildings forming the Heritage of Tasmania.
Highlights:
Where did the Duke of York and Princess Elizabeth stay when visiting Tasmania?
Which Tasmanian

Town is the centre of fine wool and beef cattle production?

Where did a penal colony start as a timber getting port?
Which entire town

is a National Trust classified Georgian village?

Which tiny village is notable for only one thing?
Which convict-built town is famously enclosed by hawthorn hedges?
Where is the Hobart house which WON a National Trust award?

Which house

became the birthplace of the National Trust in Tasmania?
Where is the suburb which is Hobart's oldest suburb?

Which Hobart house has been in the same family for 170 years?
On this page:
| | | |
| --- | --- | --- |
| | | |
| Ross Bridge | The Grange (1847) | Longford House |
| | | |
| Callington Mill | Oakington | Quamby House |
---

---




---

---

Lake House TAS

Shene Estate TAS

Redlands TAS
Note: there is no official listing of Tasmanian heritage property as National Trust Classified, apart from those properties that the National Trust themselves own or manage.
These pages exist to remedy that terrible lack.
28 to 53 of the 106 Properties listed in 1964 by the Tasmanian National Trust
An Historic Buildings competition was held in Tasmania during the latter half of 1963 and early 1964.
The success and wide-spread interest in the competition prompted the publication of the book:

Priceless Heritage: Historic Buildings of Tasmania by the National Trust of Australia (Tasmanian branch) Platypus Publications 1964.
NLA Listing: Available in the National Library of Australia collection. Format: Book; 136p. : chiefly ill. ; 28cm
More about the Book Priceless Heritage: Historic Buildings of Tasmania
The Mercury Historic Homes Competition
This photographic competition was held in 1963 to mark the 109th anniversary of the founding of the Mercury newspaper.

The competition was sponsored by The Mercury and organised by the National Trust of Australia (Tasmania) southern region.
The competition had 6 classes:
Best preserved town or country house in Tasmania

Best preserved place of worship

Best maintained privately owned but open to the public property (eg hotel, school, shop)

Best maintained commercial or rural building (eg factory, warehouse, barn)

Best preserved country house for each House of Assembly electorate

Best maintained public building
Which Were the Winners?
Van Diemen's Land
Van Diemen's Land Company's establishment at Emu Bay, 1832 (Tasmaniana Library, SLT)
Van Diemen's Land was the original name used by most Europeans for the island of Tasmania, now part of Australia.
The Dutch explorer Abel Tasman was the first European to land on the shores of Tasmania in 1642.

Landing at Blackman's Bay and later having the Dutch flag flown at North Bay, Tasman named the island Anthoonij van Diemenslandt, in honour of Anthony van Diemen, the Governor-General of the Dutch East Indies, who had sent Tasman on his voyage of discovery.

Between 1772 and 1798 only the southeastern portion of the island was visited.

Tasmania was not known to be an island until Matthew Flinders and George Bass circumnavigated it in the Norfolk in 1798–99.
1852 map of Van Diemen's Land
There are many strange stories that emerge from the mists of olde Van Diemen's Land, that island of suffering where convicts were dispatched by the British Empire, frequently for the term of their natural lives, where harsh discipline was meted out beneath the lash and in leg irons. - Read more
28. Ross Bridge Bridge Street, Ross, TAS, Australia
Bridge Street, over the Macquarie River, Ross, Tasmania.
"In 1829 Ross had a wooden Bridge that needed replacing, so Lieutenant-Governor George Arthur commissioned the architect
John Lee Archer
to design a new stone bridge, with work commencing in 1830.
"Convict gangs were set to work cutting stone, but this did not result in any bridge, as the local settlers saw it as their right to have first pickings of the convict labour to build their houses.

"Skullduggery resumed in Ross for a couple more years and still, no bridge appeared to cross the Macquarie River.
"In the heat of frustration the Colonial Government dispatched a capable convict stonemason, Daniel Herbert, to work on the Ross Bridge, along with another convict stonemason, James Colbeck and both were offered their freedom upon its completion.
"Working under the supervision of Captain William Turner, the disappearing bridge began to materialise at long last and was duly opened by the Governor to all traffic along the colonies main highway to the north in October 1836.

"As if to trumpet finally building a bridge in Ross, the old wooden carriageway was blown up following the ceremony.

"The simple fact of the matter is, the stone carvings on the Ross Bridge, one of its main claims to fame, should not exist.

"There are 186 carved voussoirs along both sides of the three arches of the bridge, which handsomely decorates a solid example of colonial stone engineering that has served well as a bridge for nearly two centuries.

"According to a 2006 Engineers Australia report, this is the only example of a stone bridge in the World that includes carvings along all of its arches. " Read more:
Thomas Dodd, 'Ross Bridge', undated (ALMFA, SLT)
Ross Bridge is an historic bridge in the town of Ross in central Tasmania, Australia, completed in July 1836. It crosses the Macquarie River.
Probably the finest masonry bridge of its period in Australia, the Ross Bridge was built in the period 1830-36 on the orders of Governor Arthur to a design by remarkable architect John Lee Archer.

Ross Bridge is the second oldest bridge in Tasmania and uniquely carved with 186 icons

The unique features of the bridge are the fine carvings in high relief of animal forms, human heads and celtic icons by convict stone mason, Daniel Herbert. The bridge is the essential element of the historic town of Ross.
The sandstone Ross Bridge was constructed by convict labour, and is the third oldest bridge still in use in Australia.
Colonial stone bridge. Three segmental arches spring from the splayed tops of supporting piers which project on both sides of the bridge and are shaped as cutwaters with weathered and moulded copings.
Piers project through walls and parapet. Moulded string course and plain coursing mitred round piers.

Fine carvings on all six faces of the arches, voussoirs and keystones.
Village of Ross, Tasmania

Ross, Tasmania

Ross is a village centrally located on Tasmania's Heritage Highway linking Launceston amd Hobart. Read about Ross.



Ross is a beautiful village to stroll around after a satisfying meal. Church Street is a great place to 'promenade'. With your guide book in hand you can follow the story of the heritage buildings you walk along the way.
Ross is a magical place after dark. Most of the day visitors have left and the streets are free of cars. There is a sense of peace in the village as the vintage street lights shed a warm amber glow of filtered dappled light through the Elm trees and onto the quiet streets below.
It's a perfect time for a stroll to see the floodlit features of the village which includes the Uniting Church, The War Memorial and the Ross Bridge.
Ross is also perfect for star gazers. The absence of city lights makes it much easier to see the stars and constellations. The Aurora Australis (the Southern Borealis) is a regular feature on a clear night from the higher hills of Ross.

.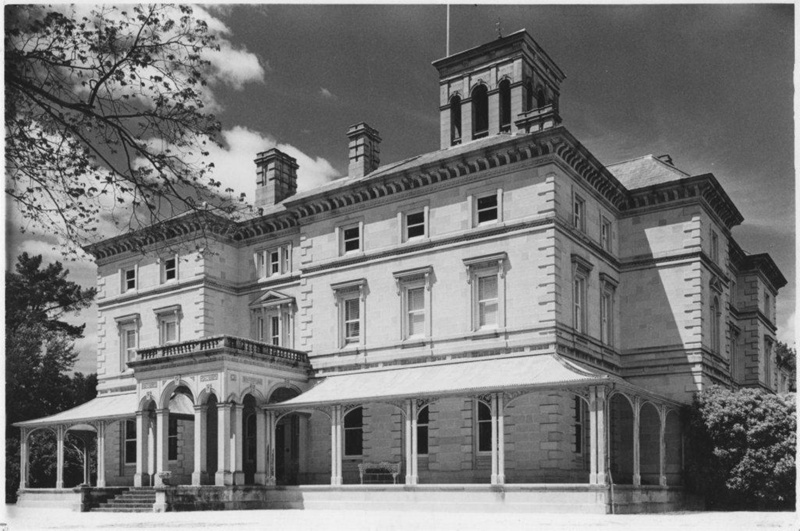 Northern and western facade of 'Mona Vale', Ross, Tasmania. The present Mona Vale was completed in 1868.
Mona Vale
is a large heritage listed 1860s country house in
Ross
,
Tasmania
. Completed in 1867, it is well locally known as the "
Calendar House
", for its reportedly 365 windows, 52 rooms, 12 chimneys and seven entrances.
[1]
The property is on the Tasmanian Heritage Register and the Register of the National Estate (since 1978).[2]

The present Mona Vale was completed in 1868. It was built by Robert Quayle Kermode at a cost of approximately £40,000. The architect was William Archer, Kermode's brother-in-law.

The sandstone house is also known as the Calendar House as it has 7 entrances, 12 chimneys, 52 rooms and 365 windows.

The stained glass windows were created by the Ferguson & Urie stained glass company of North Melbourne and were selected by the architect of Mona Vale, Henry Hunter, during a visit to Victoria in 1867.


"

I observed the beautiful windows of stained glass, which surround the front door. The fanlight is especially worth mention, having in the centre Mr. Kermode's crest, an arm and dagger surrounded by a handsome design.


The side lights have a stained glass bordering, with centre pieces in frosted glass of floral design. Arrived at the foot of the grand staircase, I observed that the whole of the windows by which it is lighted were also of stained glass, showing groups of flowers most tastefully arranged. The whole of these windows are in the style known as enamel painting, and were executed by

Messrs. Ferguson and Urie, of Melbourne

, some of them being selected for Mr. Kermode by Mr. Henry Hunter, during a late visit to Victoria" Read More
Mona Vale is a Grand Italianate villa of exceedingly fine detail and construction, the building is mammoth in its conception, design and impact.
It is in excellent repair and forms the nucleus for what is really a small settlement with numerous outbuildings, cottages and even a small chapel.

The landscape and its natural qualities have been respected and additional plantings carried out to create a fine setting for the house.
| | |
| --- | --- |
| Mona Vale Homestead, Chapel, Cottages & Outbuildings | Mona Vale Homestead, Chapel, Cottages & Outbuildings |
| | |
Mona Vale was built by
Robert Kermode
and designed by
William Archer
, his brother-in-law.
[5][6]
At the time of its completion, it became the largest private house in Australia.
[3]
Robert Kermode had liberal and enlightened views and contributed largely to the building funds of various churches and public institutions in the Ross district.

In 1865 he commenced the third family home at Mona Vale; built of local sandstone, it had a tower and over fifty rooms and was, and most likely still is, one of the largest private homes in Australia.

Robert Kermode was said to be an outgoing person, very generous in his hospitality.

Amongst the many people who came and stayed at Mona Vale was Count Strzlecki who advised him on an irrigation project that is in use to this day.
Mona Vale and the neighbouring Beaufront, Charlton, Wetmore and Somercotes are interlocked with irrigation channels mapped byStrzlecki. Read more: Robert Quayle Kermode died on 4 May 1870 and was buried at Ross.

The Duke of Edinburgh was entertained there in 1868.

Mona Vale has received multiple royal visits over its lifetime. In 1868, Alfred, Duke of Edinburgh visited, and later the then Duke of York (future King George VI) and the Duchess of York visited in 1927, with then Princess Elizabeth (Elizabeth II).[7][8]

"The narrative would, however, be very incomplete unless accompanied by some kind of description of the mansion at Mona Vale, where His Royal Highness stayed on his upward and downward journey, and where every provision was made for his comfort, which the real genuine hospitality of an English gentleman could devise, or Princely munificence accomplish.




The mansion of Mona Vale is, I have no hesitation in saying, one of the most splendid and magnificently furnished residences in the whole of the Australian colonies, and it is replete with every comfort and conveniences that modern art has yet suggested."

Read More
A Royal Visit to Mona Vale, near Ross

---

---

---

The drawing room of 'Mona Vale', near Ross, at the time of the Royal visit

The Duke planting a tree at Mona Vale during his tour of 1927

The Duke's bedroom in 'Mona Vale', near Ross
It was purchased by the Cameron family in the 1920s.

[9]The Cameron Familyarrived in Tasmania in 1822, when Donald Cameron (1780–1857), Scottish surgeon, obtained a land grant, located at Fordon, Nile. He acquired other properties, and from that date the Camerons have been included among Tasmania's leading pastoralists. Donald (1814–90) and his wife Mary extended the family holdings, including Lowestoft at Chigwell near Hobart; Donald entered the Legislative Council where he was ultra-conservative, and Mary is credited with introducing Jersey cattle to Tasmania. Their descendants flourished, and today family members own many properties in the Midlands, notably Mona Vale and Lochiel at Ross.
The estate was also the site of a military training ground, and the camp of a light horse regiment during WWII[10][11][12]

Tasmanian Heritage Register Place ID #

5266
More about the builder of 'Mona Vale', Merchant and Settler William Kermode - top of page
30. The Grange High Street, Campbell Town, TAS, Australia
A fine early example of a
Gothic Revival
mansion in Tasmania, and one of James Blackburn's finest works.
The Grange is a two storey Gothic Revival house, brick, with originally a shingle roof.
Details of the building of the Grange
The brickwork is of very high quality with label moulds over windows, and elaborate decorative paired and single chimney stacks, octagonal or turned through 45deg on their bases.

Exceptionally elegant Oriel window under north gable with bricks corbelling out to form bay shape. Separate tower to north-west and original glazed conservatory.

Website

:

www.**thegrange**.com.au/
The Grange, central Tasmania's premier meeting venue catering for government, business and community organisations, is located in Campbell Town. Since opening in October 2007 the owners June Tyzack & Gary Price have welcomed more than 100,000 delegates attending in excess of 6000 meetings and functions.

Tasmanian Heritage Register Place ID #

4943
More about Gothic Revival style - top of page
Campbell Town

Campbell Town

Campbell Town was established in the 1820's as one of a chain of garrison stations between Launceston and Hobart,

12km north of Ross.




Today

Campbell Town

is the centre of fine wool and beef cattle production.
Campbell Town's historic highlights include the Red Bridge(1838), Fox Hunters Return (1833, now a unique Heritage Bookshop experience), The Grange (1847), and St Lukes Church (1839).

Campbell Town is the home of the convict brick trail, where bricks embedded in the footpath of the main street tell the stories of many convicts.

You may stroll the banks of the Elizabeth River or browse the antique and gift shops. Read more at Wikipedia.

10-January-2014



The Convict Brick Trailat Campbell Town commemorates some of the nearly 200,000 convicts who were transported to Australia between 1788 and 1868.


The first brick was laid by Mayor Kim Polley on the 28 August 2003. Each brick details a convict's name, their crimes and subsequent punishment.

The trail is located on the footpath in High St, Campbell Town and commences outside the historic premises known as the Fox Hunters Return which is adjacent to the Red Bridge. It extends to the CBD on the western side and to the IGA Supermarket on the eastern side.
31.
Cawarra & Grounds
52 Risdon Road New Town, TAS, Australia
| | |
| --- | --- |
| Cawarra & Grounds | Cawarra & Grounds |
| 'Cawarra', Risdon Rd, New Town, Hobart, Tasmania | Cawarra & Grounds |
Unusual but substantial decorated sandstone house. "It marks the beginning of the period of freer design in the Victorian era, while its adventurous designer still used features of the past, but modified and combined them into an interesting whole" E.G. Robertson
A two storey cottage ornee of assymetrical design, this building is of tooled sandstone with ashlar quoins, window surrounds, chimneys etc.

The roofs are gabled, with very elaborate barge boards, and on the front gable, a wooden finial resembling a chimney.

Windows have label moulds above, small panes, and decorated lugsills.

A triangular topped window at first floor is directly over a slightly bayed window at ground floor.

The entrance porch is of a heavy, elaborate design. Well landscaped grounds.

The ornate gable bargeboards and porch are of particular interest.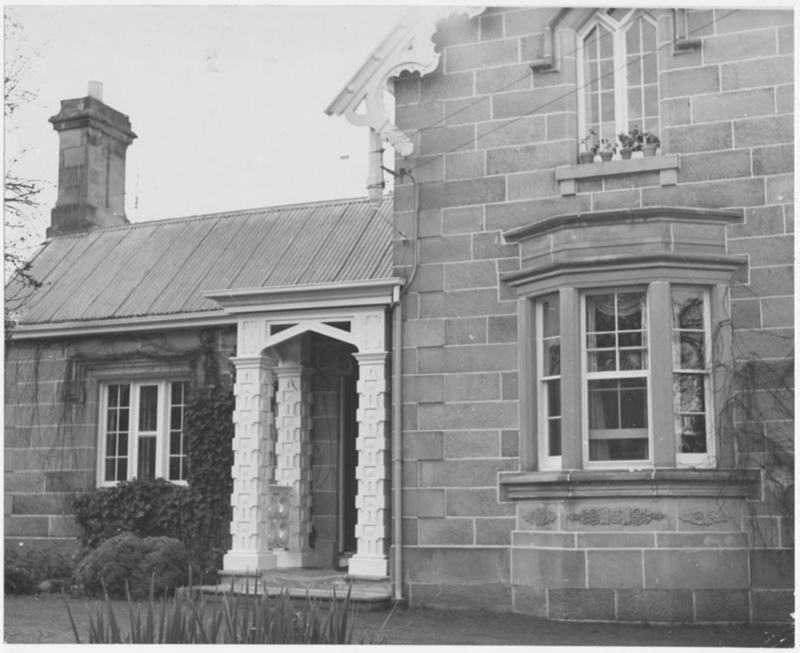 Cawarra, Risdon Road, New Town; from National Trust of Australia (Tasmania)
John McGrath, licensed victualler (innkeeper), purchased 4 acres including the land where Cawarra now stands in December 1845.
Cawarra (originally known as Clonsilla) was probably built shortly afterwards and the architect is reputed to have been William Porden Kay who built the nearby Barrington Lodge in 1848.

James Staines Taylor (1833-1910) purchased Cawarra on 1.5 acres in November 1903 for 700 pounds. Taylor was a Master Mariner who operated the vehicular ferry service across the Derwent between Hobart and Bellerive from 1863 until 1903.
Taylor died in 1910 but his widow, Rosina, continued to live there until the early 1940s.
By this time Cawarra was in a state of neglect but it was restored by Stewart MacRae MacGregor during the 1950s.

Tasmanian Heritage Register Place ID #

2733

More about Rustic Gothic style; Gothic Revival style - top of page
Port Arthur was named after George Arthur, the Lieutenant Governor of Van Diemen's Land. The settlement started as a timberstation in 1830, but it is best known for being a penal colony.
| | |
| --- | --- |
| Port Arthur Historic Site | Port Arthur Historic Site |
| Guard Tower | Gunpowder Magazine and Old Guard House |
Port Arthur, Tasmania,

From Wikipedia, the free encyclopedia

First convicts arrived 22 September 1830.
In 1835 work commenced on stone and brick structures. Abandoned 1877.
The settlement represented a hesitant but willing attempt at penal reform by bringing the element of rehabilitation into the punishment. Port Arthur was established to replace the infamous Macquarie Harbour penal establishment which was abandoned in 1833.
The first permanent buildings were erected during the term of Captain O'Hara Booth, Commandant of Port Arthur in 1833-1844.
Many buildings remain either intact or as ruins resulting from time weather and uncontrolled bushfires.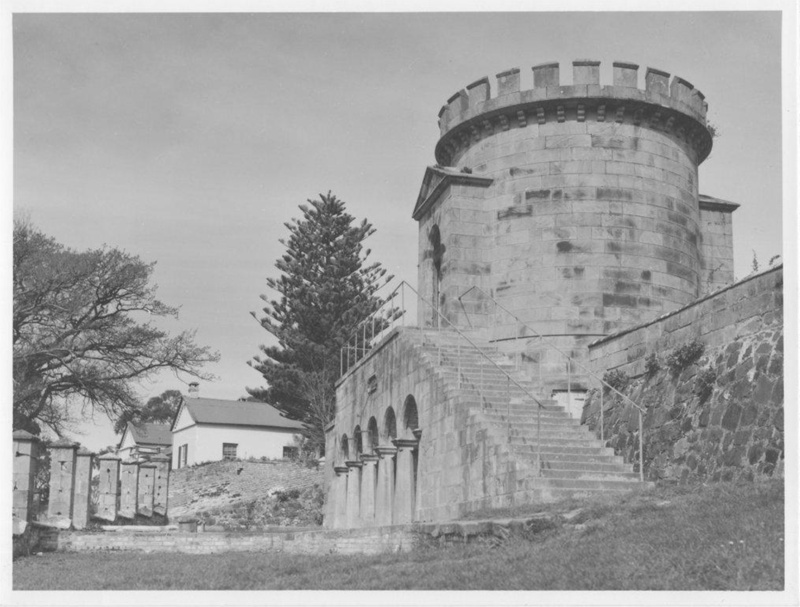 Magazine and Commandant's Cottage, Port Arthur, Tasmania.; Thwaites, Jack; 1969; TSO00018562.10
Location of Port Arthur. Tasmania, Australia
From 1833, until 1853, it was the destination for the hardest of convicted

British criminals

, those who were secondary offenders having re-offended after their arrival in Australia.

Rebellious personalities from other convict stations were also sent here, a quite undesirable punishment.

In addition Port Arthur had some of the strictest

security

measures of the British penal system.

The peninsula on which Port Arthur is located is a naturally secure site by being surrounded by water (rumoured by the administration to be shark-infested). The 30m wide isthmus ofEaglehawk Neck that was the only connection to the mainland was fenced and guarded by soldiers, man traps and half-starved dogs.

Despite its reputation as a pioneering institution for the new, enlightened view of imprisonment, Port Arthur was still in reality as harsh and brutal as other penal settlements. Some critics might even suggest that its use of psychological punishment, compounded with no hope of escape, made it one of the worst.

Tasmanian Heritage Register Place ID #

2920
Port Arthur Historic Site
Port Arthur Site

Port Arthur, Tasmania

The World Heritage-listed Port Arthur Historic Site on the Tasman Peninsula is Australia's most intact and evocative convict site, and an essential destination on any tour of Tasmania.


Port Arthur Historic Site (Australia)

*

The Historic Site has over 30 buildings, ruins and restored period homes set in 40 hectares of landscaped grounds. Allow plenty of time to fully experience all that Port Arthur has to offer.




Stroll the landscaped Victorian gardens, and you'll find it hard to imagine this was once a reviled prison that held 1,100 convicts at its peak.
Port Arthur began life in 1830 as a small timber station and from 1833 until the 1850s some of the colony's most hardened criminals came here to work.
Today you can examine their indentured handiwork on a forty-minute guided walking tour of the site's many buildings, ruins and restored houses.

Spending a night or two in the area will allow time to fully explore Port Arthur and the fascinating region around it.


Pre-visit bookings, travel advice and information on accommodation are available from the Port Arthur Booking Office at the Brooke Street Pier in Hobart. Tickets are also available on arrival at Port Arthur and via the website.

Opening Times: Daily 0900 - Dusk
33. The Cottage 27 Main Street, Kempton, TAS, Australia
A well maintained Victorian stone cottage built about 1860. The building is complemented by brick stables, a good garden and timber picket fence.
The building contributes to the townscape of Kempton.
Single storey stone Victorian cottage. Attics with dormers. Iron hip roof. Main facade of five bays with large two pane windows and shutters.




Central two panel door with half sidelights and transom light.

Quoins and reveals to door expressed. Single storey timber verandah with small iron brackets and frieze.




Brick stables at rear. Picket fence. Side stone wall.
34.
Longford House & Barn
Brickenden Street, Longford, TAS, Australia
An early district homestead of uncertain date, yet by style and comment appears to be about 1839.
Longford House, 120 Catherine Street, Longford, Tas 7301
LONGFORD House built circa 1834 is known as one of Tasmania's finest colonial homes.
When advertised for sale in The Examiner newspaper in November 1854 it was described as, "all that noble mansion, domain and garden, situated in the suburbs of Longford and known as Longford House.

The edifice is handsome, extensive and commodious, and is in thorough repair, with every accommodation of offices, outhouses, prolific garden, and a well of the purest water."
The house then, as now, is offered for sale with the original 8.9 hectares of land, comprising 2.2 hectares of parks and garden, an orchard, barn and 6.7 hectares of meadow, divided into several paddocks.
The estate is completely surrounded by hawthorn hedges, ageing white gums and English oaks.
| | |
| --- | --- |
| Longford House & Barn | 'Longford House', Longford, Tasmania.; Unknown; c. 1960s; TSO00018457.1 |
| | 'Longford House'; Unknown; c. 1960; TSO00018898 |
Longford House nestled in a very private setting of over 2 hectares of parks and garden.
The house sensitively renovated for comfortable living has retained the original charm of the Georgian period, whilst combining a contemporary space in the kitchen and living areas. French windows and doors open to the garden on all sides, radiating a light and warmth throughout the house

The estate is surrounded by hawthorn hedges, white gums, English oaks and a collection of plants which complement the history architecture and atmosphere of this charming property.

The water right with the property provides opportunities for the keen gardener, horticulturalist or any number of enterprises.

Read more; Longford House - a piece of history
Longford House. Longford, TAS, Australia
Two storey brick and stucco Georgian house. Iron hip roof.
Two by five pane (level two) and two by seven pane (level one) windows. Four panel front door and transom light in casing with Doric portico.

Unusual curved wall with arches shields earlier one storey vernacular house of brick construction.

Also demountable cast iron framed barn with frame in form of pilasters - third site.

This would have the builder as Joseph Solomon who sold to Major HC Cotton in 1845.

The main part of the house is two storey Georgian but this adjoins a vernacular cottage of even earlier origin.

There is also an unusual iron framed demountable barn, imported from Britain and first erected at Wesley Dale.

Tasmanian Heritage Register Place ID #

5087

More about Colonial Style architecture - top of page
Read more about Longford Historic Town in National Estate; Appendix Longford Historic Town
Longford, Tasmania

Town of Longford

Longford is a town in the northern midlands of Tasmania, Australia. It lies 145 m above sea level at the convergence of the Macquarie River and the South Esk River, 21 km south of Launceston and a 15-minute drive from the airport.




Summercotes Colonial Buildings





82 km north west of Ross, Longford was first settled in 1813 and is one of the oldest towns in Northern Tasmania.

The town retains its fine historic buildings, many of which were built by convict labour.

Many of the old Georgian buildings now house a variety of specialist craft and antique shops.

Longford echoes its English and Irish heritage with rich pastures, hawthorn hedges, historic farms and stately homes, some of which are open to the public. Read more at Wikipedia.
Visit World Heritage Listed Somercotes, home of the national rose garden and Brickenden, Colonial Farm, both are open daily.
35. 27 De Witt Street, Battery Point, TAS, Australia
A very unified collection of Georgian and Victorian houses and cottages producing a streetscape of memorable impact.
All the land had one original owner, who obviously began construction on the more elevated sites south of Logan Street, leaving the lower sites near Hampden Road until later when Victorian houses were built.


One and two storey cottages and houses of mostly Georgian design with some of Victorian design.
Stone Cottage, in De Witt Street, Battery Point, Tasmania. This (mis-identified as no. 27) image is part of a large collection of photographs which were entered in The Mercury Historic Homes Photographic Competition, 1963.
Apart from nos 11 and 13 which are single storey stone cottages, the remainder are of brick construction.

Georgian buildings have iron roofs while Victorian have slate or tile roofs.

Most buildings are aligned with a small setback from the street front.

Tasmanian Heritage Register Place ID #

1711
More about Victorian Georgian style
Evandale is situated in the Australian state of Tasmania, on the South Esk River 20 km south of Launceston and 5 km from the main highway and Launceston Airport.

Evandale today is a National Trust classified Georgian village, popular with tourists for its unspoiled heritage buildings
Evandale was the home of John Batman the founder of Melbourne and John Kelly, the father of "our Ned" served time as a prisoner here.
| | |
| --- | --- |
| 'Blenheim', Evandale, Tasmania | Blenheim: The cosy bedrooms are remnants of a bygone era. |
"Blenheim, built in 1826 on Evandale's High St, had recently been passed in at auction when the Clarks stumbled across it on their way to the airport.
The 1978 auction notice called it "one of Tasmania's finest country homes" but when the Clarks bought it in 1979, the dilapidated house was anything but impressive, though it did have a ballroom.

"We slowly brought it back to life," says Victoria." The transformation from derelict to dame happened gradually.
"The Georgian beauty of the property is not reserved for its permanent residents.
Visitors are welcome to stay in a wing that tastefully pays homage to Blenheim's heritage.

The bed and breakfast accommodation complements a glassware emporium on the side of the house as well as Victoria's antique shop at its front.
"Beyond the racks of vintage clothes and collectables, the house is a treasure trove." Read More:
Once part of the servant's quarters, the kitchen is now the hub of the household.

Blenheim Bed and Breakfast

Blenheim Bed and Breakfast is situated in a beautiful garden in historic Evandale, near Launceston Airport.


Blenheim was built in 1832 and licensed in 1835 as Patriot King William the Fourth Inn.

It is believed to be one of the oldest homes in virtually original condition in Australia.

The bed and breakfast is situated above what was once the brew house - now a glass gallery.


The ensuite accommodation is spacious and well-lit, with comfortable furnishings in keeping with the period.


A small balcony overlooks a courtyard and garden of old-fashioned flowers. The

The accommodation has its own private entrance and parking.


Website: http://www.blenheim.com.au/
Blenheim, 16 High Street, Evandale
Built in 1832 by John Williatt as the Patriot King William the fourth inn, this substantial brick building with its fine facade, rear service wings, outbuildings and courtyard is an essential element of the historic village of Evandale.
Blenheim, a Coaching Inn built in 1826, is one of the finest examples of a Georgian Inn complex within Australia.
This delightful two-storey red brick building has a slate hipped roof and projecting eaves.

The five-bay front facade has a corniced portico with stone entablature supported on four Tuscan columns.

An assembly room upstairs was used for concerts, dancing, and a meeting room for the Masonic Lodge and other groups.

Outbuildings included a brew house, stables, blacksmiths shop, cottage and loose boxes. Some of the buildings were destroyed by fire.
A two storey Georgian house. Red brick. Slate roof and projecting eaves.
Five bay front facade with four by fifteen pane windows to level two, with central French windows onto portico and two pairs of French windows below. Central pair of two panel doors with transom light.

Four truscan columns support stone entablature and corniced portico. Brick lintels to openings. String course.

Rear twelve paned windows. Two hip roof wings at rear - nine pane windows to level two, twelve pane to level one.

Terrace of brick cottages/outbuildings across rear of courtyard. Skillion roof.

Read more about Evandale Historic Town in National Estate; Appendix Evandale Historic Town

Historic Evandale - Tasmania, Australia
Evandale, Tasmania


Tasmania and New South Wales were the only states of Australia to have been settled and developed in the Georgian era




the Georgian era was a period of British history which takes its name from, and is normally defined as spanning the reigns of George I, George II, George III and George IV.

The era covers the period from 1714 to 1830.

Many settlements sprang up across Tasmania during this time, but unlike regional New South Wales, there were no gold rushes to lead to Tasmania's Georgian-era settlements into becoming sizeable rural cities like Bathurst and Parkes;

Tasmania's rural communities have remained small villages as most saw little if any growth after their intital settlement and development.




Today these Georgian era villages are like time capsules, frozen in time, their buildings lovingly restored to their original condition.




In the main, the town centres remain pretty much as they were 170 years ago, except for modern signage and bitumen surfaces on the streets and roads.

The old pubs and guest houses that were stopping places for colonial stages coaches and cross country travellers still offer a warm bed for the night, eating houses still offer a tasty meal, though the menu has changed somewhat, and shops that once sold vittals to locals now sell arts, crafts and souvenirs to tourists.

The Georgian villages near Launceston are in two clusters - one, south along the Midland Highway, and the other to the west towards Deloraine and Devonport.


Evandale today is a National Trust classified Georgian village, popular with tourists for its unspoiled heritage buildings, notably


St Andrews Church, the Uniting Church, with its classical belltower and Doric columns,

Blenheim (1832) in High Street; Royal Oak (1840) and adjoining stables now Evandale Antiques,

Clarendon Arms hotel (1847) and Fallgrove (1826) in Russell Street;

Solomon House (1836), and the saddler's shop (1840) at the intersection of Russell Street and High Street.
Note: there is no official listing of Evandale as National Trust Classified. These pages exist to remedy that terrible lack.
More about Victorian Georgian style

Tasmanian Heritage Register Place ID #

5013
St Matthias Anglican Church, at Windermere, is one of Tasmania's most beautiful heritage listed churches.
The church has a picturesque river-bank setting, surrounded by mature elm and eucalypt trees. The undulating churchyard contains the graves of Mathias Gaunt and his family, and many other local pioneers, including those of the Rosevear, Neilly, Medwin and Plummer families.
Note: Mathias Gaunt always signed his name as 'Mathias' (ref. AOT), though his gravestone has Mathuis.
St Matthias Church, which was completed in 1842, claims to be the oldest, continuously used church in Australia. It was designed by a Launceston architect, Robert de Little, and built in a Colonial Gothic style, by Henry Howard.
A Village noted for its picturesque, historic church on the eastern shore of the Tamar River.
The tiny village of Windemere on the eastern shore of the Tamar River is notable for only one thing: the particularly attractive, historic and beautifully located St Matthias Church which is a popular destination for weddings. Read more:
Situated on the banks of the picturesque Tamar River, St Matthias Anglican Church was built in 1842 fulfilling a promise by Dr Matthius Gaunt to his young wife before they left England.
When Dr Gaunt resolved to emigrate to Van Diemen's Land in 1831, his wife was concerned that there may not be a church in the area where they would eventually make their home.

Dr Gaunt promised that if there was not, he would build one for her. Consecrated in 1845, St Matthias is one of Australia's oldest churches in continous use since its foundation.

With its dominant and picturesque setting on a bend of the Tamar River, it is a landmark which has been held in high esteem throughout the Tasmanian community for a century and a half (E.1).
St Matthias church is a 'Colonial Gothic picturesque' style church (of early English influence)
It is also an important example of the work of architect, Robert de Little, and was one of the first buildings to be consecrated by the Rt Rev. Francis Russell Nixon, first Bishop of Tasmania

More about Colonial Gothic picturesque

Tasmanian Heritage Register Place ID #

4704

- top of page
Callington Mill, a working Georgian windmill built in 1837. A fine group of historic Colonial buildings built by John Vincent and completed in October 1837. Although the buildings are freestanding, there is a strong relationship between them and they are centred on a five level windmill. All buildings are of stone with many having shingled roofs.
The restoration of Callington Mill to its former glory was completed in 2010 & the first turning of its sails after being dormant for so many years was a magnificent sight.

The mill is the only working example of its type in the southern hemisphere and produces quality flours driven by the fresh winds of Oatlands.
Village of Oatlands

Oatlands, Tasmania

Oatland's major attraction is Callington Mill on Old Mill Lane which was built in 1836 by John Vincent.


Oatlands Court House (1829)




Vincent, with his wife and seven children, had arrived in Hobart Town in 1823 with £869.
Vincent's enthusiasm for the mill was short-lived. In 1839 he tried, unsuccessfully, to sell the mill, so in 1840 he handed it over to his son John Jubilee Vincent.
At the time the mill was producing 20-30 bushels of flour an hour. By 1850 the mill had been sold to Thomas Jillett who established a steam mill and production rose to 5-7 tons of flour a day.
By 1862 the property comprised a two storey flour mill driven by steam and wind, a two roomed cottage for the miller with a large store, a three stall stable, a house, a baker's shop 'and two cottages fronting the main street with stable and coach house adjoining, and a large dwelling house of twelve well proportioned rooms, four stall stable with hay loft, cow shed, piggeries and yard'.
The mill continued to operate until 1892. In 1909 a storm blew the sails away and in 1912 it was gutted by fire.

Oatlands Lodge 92 High Street. OATLANDS Tasmania 7120

It has been fully restored to a working mill with successful grant funding from the State Government and The Federal Government.




Original buildings have been reinvented as retail outlets, galleries, bakeries, cafés and accommodation.




Uncover a hidden treasure at one of Oatlands antiques or craft shops, meet local artisans and learn the stories behind the Oatlands made wares or relax by the lake.

A major point of interest in Oatlands is the sheer number of historic sandstone buildings – 87 in the main street alone and the largest collection in Australia.
Other building of interest include Callington Mill (1837), Supreme Court House (1829), St Peters Church (1888), St Pauls Pugin Church (1850), Uniting Church (opened 1856), Oatlands Gaol & Gaoler's Residence (1834 & 1836).
39. Oakington 15 Napoleon Street, Battery Point, TAS, Australia
Oakington Circa 1840, with Picturesque Harbour Outlook
| | |
| --- | --- |
| Oakington, 15 Napoleon Street, Battery Point | Oakington, 15 Napoleon Street, Battery Point |
| Oakington, 15 Napoleon Street, Battery Point TAS 7004 | Oakington, 15 Napoleon Street, Battery Point TAS 7004 |
An essentially Georgian stone house, transformed into an eclectic design by the later addition of (early Federation style) verandahs, the house now has a distinctive horizontal line achieved through the visual layering of parapet, verandah and front stone wall.

The building is an important part of the Battery Point townscape.
"Historic Oakington offers the ultimate in lifestyle, convenience and location in the heart of coveted Battery Point.
Built in 1840, Oakington represents a magnificent example of classic Victorian Georgian architecture with an absolutely stunning street presence and superb Harbour views."
| | |
| --- | --- |
| 'Oakington', Battery Point, Tasmania; The Mercury, Hobart, Tasmania; 1963; TSO00018030 | 'Oakington', Battery Point, Tasmania; The Mercury, Hobart, Tasmania; 1963; TSO00018032 |
Single storey stone house. Eclectic design. Tuscan pilasters on each side of entrance door. Parapet with central tympanum.
Single storey verandah added later - central curve, iron balusters, iron brackets.

Twelve pane windows. Round-head arched dormers with pilasters.

Low stone wall and iron fence. Impressive views of Derwent. Large garden.

More about Colonial Style architecture

Tasmanian Heritage Register Place ID #

1886 - top of page
40. Wingfield 262 Davey Street, South Hobart, TAS, Australia
An excellent example of an 1830s Old Colonial Regency style house in original condition (Criterion B 2).
Wingfield Garden, 262 Davey St, South Hobart
| | |
| --- | --- |
| Wingfield Garden | Wingfield Garden |
The building has importance for its technical achievement and contains many fine original details, including quality stone craftsmanship, and large openings with characteristic thin glazing bars (Criterion F 1).
The residence is single-storey, with a return verandah. It has simple elevations and an iron hip roof.
The verandah has clustered columns, and French doors giving onto it, with eight panes, and eight narrow edge panes.

There is a protruding bay with 16 pane French doors and a highlight opening to the garden.

The house was erected for the owner, GH Barnes, Hobart's Collector of Customs, in 1835.

The property has changed hands several times since then.

Wingfield is part of a precinct of early large town houses, including Bellona, Ryethorpe, and other properties.
Wingfield Garden
'Wingfield' garden has horticultural significance for containing old varieties of fruit trees and vegetables (criterion C 2).
'Wingfield' garden has significance for demonstrating an early 19th century middle sized town garden by the following features:

a classical design style with axial connections to the house and an axial vista from the house through an arched gateway;

a profusion of shrubbery with interlaced paths; use of oaks as dominant tree species along the boundary;

a separate hedged vegetable garden; box hedged flower gardens; garden elements of gravelled paths with terracotta edging and a stone urn,

remnants of a cobbled court; a formal front entrance with pedestrian access;

and later period Gardenesque overlays with curving paths and more modern flower species (criterion D 2).
The garden has aesthetic significance based on the combination of period design features and maturity of garden trees, which now contribute to intimate scenery of textured detail and canopied spaces, combined with enframed vistas to the bay (criterion F 1).
The garden has creative significance for demonstrating a formal classical style in a restricted space which utilises the available prospect and traditional garden plant species (criterion F 1).
| | |
| --- | --- |
| Wingfield, Jo Lynch's garden, Davey Street, Hobart | Wingfield, Jo Lynch's garden, Davey Street, Hobart |
Description:


The garden is located in the southern higher region of Hobart. It was constructed in the 1830s as a setting for a middle sized Georgian style house.
The garden is one of a small group of large town house gardens of similar style and the other similar neighbouring gardens are 'Bellona' and 'Ryethorpe'.

The garden retains its early 19th century classical style and overlays of later Gardenesque features are evident by curving paths and later period flowers.

The garden is laid out with its frontage facing the former Fitzroy Crescent, where there was a gate entry. Central to the front of the house are remnants of a formal rose bed hedged with box, and beyond this is a profusion of shrubberies, interlaced with winding paths.

A gravelled carriage way leads from Davey Crescent and is bounded on one side by a laurel hedge. The eastern boundary is edged with mature oaks under which are Man Ferns.

To the rear of the house is the remains of a cobbled court and beyond is the hedged vegetable garden in which are old fruit tree varieties. Within the garden are some stone Colonial features; an urn, a water trough and an old stone tank.

More about Colonial Style architecture

Tasmanian Heritage Register Place ID #

3103

- top of page
A fine two storey Georgian stone house built by TF Marzetti before 1828 with side wings added by Henric Nicholas after 1844.
The house is complemented by fine stone outbuildings comprising a light horse stables to the south of the house and a heavy horse complex to the north.
The house and outbuildings form a unified group with good landscape setting.
| | |
| --- | --- |
| Cawood and Outbuildings | Cawood and Outbuildings |
| 'Cawood', Ouse, Tasmania; Unknown; 1963; TSO00018183 | 'Cawood', Ouse, Tasmania; Unknown; 1963; TSO00018184 |
Two storey with flanking single storey wings holding single storey verandah.
Twelve pane windows - plus four pane half windows each side for level one windows and level two central window. Twelve pane to wings. Four panel door with half sidelights and radial fanlight. Iron hip roofs. Additions at rear.

Stone outbuildings including two level light horse stables and heavy horse stables of one storey and lofts. Stone buildings about courtyard. Good setting in landscape.

More about Victorian Georgian style

Tasmanian Heritage Register Place ID #

884

- top of page
Ouse, Tasmania

Village of Ouse

Located 88 km northwest of Hobart is the rather quaint little town of Ouse. Like so many of the towns on the Derwent River it was explored soon after the establishment of the settlement at Hobart Town. However settlers did not move into the area until the 1820s.




One of the first buildings in the town was the Anglican Church of St. John the Baptist.





There seems to have been some confusion over the town's name in the mid nineteenth century. In the 1840s it was known as Ousebridge which by the 1850s had become Ouse Bridge. By the 1860s it had been reduced to Ouse.





The town's brief brush with literary fame occurred in the 1820s and 1830s when David Burn, Australia's first playwright, lived in a country house named Rotherwood near Ouse. His play The Bushrangers was performed in Edinburgh in 1829 and in 1842 a collection of his writings, Plays and Fugitive Pieces, was published in Hobart. It was the first collection of plays published in Australia.
A small group including council chambers, formerly Richmond Court House built in 1825-26 to a design of either David Lambe or Major T Kirwood.
The original stone watch house is at the rear. Also included is a Victorian stone hall with an interesting facade. The group contributes to the townscape of Richmond.

Council chambers-former court house. Stucco. Tall central section with bow front, pilasters and sixteen pane windows.

Lower flanking wings with recesseds round head blind panels, pilasters and sixteen pane windows.

Separate iron hip roofs. Entrance porch. Adjacent stone hall with cornice, entablatures etc to main facade. Two pane windows. Stone watch house at rear - twelve and eight pane windows.

Read more about Richmond Historic Town in National Estate; Appendix Richmond Historic Town

Tasmanian Heritage Register Place ID #

1096 - top of page

Historic Richmond, Tasmania

Richmond Bridge, Tasmania

Town of Richmond

Richmond, Tasmania

Richmond is a picture-perfect town in the heart of Tasmania's Coal River Valley wine region that tells the story of an early Australian colonial village.




Richmond was established as an important military staging post and convict station linking Hobart with Port Arthur.
The village is famous for its elegant Georgian architecture, with beautiful heritage buildings dating back as early as the 1820's now housing galleries, tea shops, craft boutiques and museums.
Richmond has more than 50 Georgian buildings, many beautifully restored and now operating as cafes, restaurants, galleries and accommodation.
The town's most photographed landmark is the Richmond Bridge. Built by convicts in the 1820s, it's the oldest bridge in Australia and offers a perfect picnic spot on the grassy banks of the Coal River.
The Richmond Gaol is also the oldest gaol in Australia. Standing inside the stone cells gives an eerie insight into the hardships and brutality of convict life in early Van Diemen's Land.


Read more about Richmond Historic Town in National Estate; or in the Appendix Richmond Historic Town
43. St Johns Orphan School (former) now St Johns Park Hospital, St Johns Avenue New Town, TAS, Australia
The Orphan School and St John's Park Precinct situated in St. John's Avenue, New Town, Tasmania is a heritage site of local, state and national significance.
The Orphan School buildings, constructed between 1831 and 1833, and St John's Church, built in 1834 form the nucleus of the Precinct.

For more than 175 years sections of the Precinct have been associated with the provision of institutional care and services for Tasmanians in need.
Following the closure of the Orphan School in 1879 the buildings were operated for some years as the Male Division of the New Town Charitable Institution.
An Infant Orphan School, added in 1862 became the Female Charitable Institution in 1874. In the twentieth century several buildings were constructed to provide care for war veterans, children with paralysis, the mentally impaired and elderly people suffering from early dementia.
Church & Orphans School, St John's Avenue New Town 1872
An essential part of the historic St Johns precinct, these Tudoresque buildings were designed by
John Lee Archer
to be symmetrically located on each side of St Johns Church.
Although the roof dormers have been added to Archers' design, and unhappily part of the southern building has been demolished, the power of symmetrical design remains.
The Queen's Orphan Asylum opened as the King's Orphan Asylum in 1831.
It was the first purpose-built institution for orphaned, destitute and neglected children in the colony. Many of its residents were children born to convict women under sentence.

Before the Orphan School opened in 1833, boys were housed in a disused distillery in New Town, and some girls placed in a private home in Davey Street, Hobart.
Orphan School, South wing




Infant Orphan School

Orphan School, North wing
The Orphan School, designed by
John Lee Archer
, was situated in St John's Avenue, New Town. The parish church of St John's stood between the buildings for boys and for girls.
This arrangement was refered to as a 'parish partnership' between the Church and government with the church designed specifically for the needs of the Asylum, convicts and free settlers.
The children sat in one gallery and the convicts in the other with the settlers in the main body. Barriers and separate entrances prevented the children from seeing the convicts. Church of England clergy dominated the committee that managed the Asylum. Read more:
"We have seen many assemblages of children in our time...but never did we see two hundred human beings, that exhibited so squalid an appearance, as did the majority of the Queen's Orphans."
Read more
:
44. Ivylawn 1260 Westwood Road, Hagley, TAS, Australia
| | |
| --- | --- |
| Ivylawn 1260 Westwood Road, Hagley, TAS | Ivylawn 1260 Westwood Road, Hagley, TAS |
| Ivylawn 1260 Westwood Road, Hagley, TAS | Ivylawn 1260 Westwood Road, Hagley, TAS |
Not far from Quamby Estate, Ivylawn was built and known as the Dower House for Sir Richard Dry's sister by their father.
A fine two storey house, it is now believed to have been built about 1842.

At this time, the unusual massing and fenestration of the house would have been 40 years ahead of its time.

Once a secondary house on the Quamby Estate, the building has an axial approach drive and fine garden which heightens its importance.
This two storey brick and stucco house features rough stucco with smooth work in imitation of ashlar to quoins and surrounds to openings.
Windows are grouped in threes (arch head to level two, flathead to level one) with Tartan glazing.

The single panel double front doors feature generous half sidelights and arched transom light. Ivylawn is off Bass Highway at 1260 Westwood Road, 2km north-east of Hagley.

Tasmanian Heritage Register Place ID #

4833

- top of page
Quamby Estate - Quamby House Group, 1145 Westwood Road, Hagley, TAS, Australia
"Quamby" in Tasmania is between Hadspen and Westbury, which is west of Launceston.
Quamby Estate is a majestic country hotel in Tasmania's pristine Meander Valley and is owned by Virgin Australia Co-Founder's Brett Godfrey and Rob Sherrard.
Godfrey and Sherrard, who are also the developers and co-owners of Noosa's beautiful Makepeace Island with Sir Richard Branson, also own Tasmanian properties The Pilot Station at Low Head and Lake House, Cressy.
Following the purchase of Quamby in 2008 by Anthology, Quamby was given a complete make-over by heritage architects and builders to restore the home to its former glory.
This 10-bedroom enchanting 150-acre property is rich in history dating back to the 1830s and is just 25 minutes from Launceston airport by complimentary hotel transfer.

Quamby Estate was the ancestral home of Tasmania's first-born Premier, Sir Richard Dry and following the change in ownership in 2011 has been lovingly restored

All of the buildings have retained their heritage feel as they have undergone the restoration – this includes the spectacular marble fireplaces, wide verandahs, bushranger shutters, soaring ceilings, decorative cornices and servant bells.
But in keeping with the notion that Quamby was considered "cutting edge" when it was first built, a contemporary look and feel was introduced to the interior design by tourism industry design specialists, Pike Withers, who were responsible for the makeover of the grand home. Artefacts, paintings and ceramics produced by local Tasmanian artists are featured at the Lodge.
In 2009, following a $280,000 conversion, the stables began serving as the base for guests of the Bay of Fires and Cradle Mountain Huts Walks during the walking season from October to May each year. This will continue to happen under the new owners.
The former contemporary "conservatory" style restaurant which was upgraded to a stylish and modern functions space for weddings, conferences and events will also remain open as will the beautifully groomed nine-hole private golf course.
| | |
| --- | --- |
| | |
Historically significant as an imposing country residence with manager's house and usually intact and extensive outbuildings erected in the 1830's by Richard Dry, a pardoned convict imprisoned for Irish political activities, who purchased 2000 acres in 1828.
An important house with Indian Bungalow and Chinese design influences, built 1828-38 by Richard Dry, an Irish politicl exile who arrived in Australia in 1800, was pardoned in 1819 and received a grant of 500 acres from Governor Macquarie and purchased 2000 acres in 1828.

The Chinese influence in the design, as exemplified by the trellis work to the verandah and the fanlight over the entrance door, is said to be a result of Dry's son's visit to China (Richard Dry jnr was to become Premier of Tasmania)
The Chinese influence in the design of the house, as exemplified by the trellis work to the verandah and fanlight over the entrance door, is said to be the result of visit to China by Dry's son, who later became Premier of Tasmania.
Single storey Georgian house with attics. Brick, part stucco. Indian Bungalow and Chinese influences. House has double hipped roofs - rear hip with end dormers.

Return, stone paved verandah with turned timber posts and fine bracket and balustrade trellis work. Eight pane French doors in pairs with transom lights open to verandah. Unusual six panel entry door with half sidelight and diagonal pattern fanlight.

Tasmanian Heritage Register Place ID #

4832

- top of page

| | |
| --- | --- |
| Quamby Managers House, Westwood Rd, Hagley, TAS | Quamby Managers House, Westwood Rd, Hagley, TAS |
| Schoolhouse, Hagley Farm School | Hagley House |
The manager's house is architecturally significant as a rare and excellent example of the Georgian simplified classical style, with high quality elements such as stairs, fireplaces, doors and panelling, possibly built to a copy book pattern.
The manager's house is a two-storey stuccoed brick building, piered at the corners and with a string course at first floor level. It is hip roofed, and has an elegant single-storey pediment enclosed porch, with paired timber pilasters and timber boarding in imitation of stone.

There is a timber cornice on brackets above the fanlight over the door. All ground floor rooms have internal shutters, and all upstairs windows have unusually patterned glazing bar divisions.

Tasmanian Heritage Register Place ID #4830

- top of page
Quamby Estate
The outbuildings contribute in an important way to the historical and architectural significance of the complex and reflect the range of farming activities carried out on the property, and the living and working conditions of the staff. The house and outbuildings have an intact rural setting.
| | |
| --- | --- |
| Quamby house is a single storey Georgian house | Hagley_school_aerial_view |
| Qamby Estate | Qamby Estate |
Quamby House
Quamby house is a single storey Georgian house with attics, with stuccoed brick with Indian Bungalow and Chinese influences.
The house has double hipped roofs, and the rear hip has end dormers.

It has return, stone paved verandahs with turned timber posts and fine brackets and balustrade trellis work.

Eight-pane French doors in pairs with transom light open to the verandah.

There is an unusual six-panel entry door with half sidelight and a diagonal pattern fanlight.
There are numerous brick barns and stores, two coach houses, a coachman's cottage, stables which can hold 26 horses, quarters for grooms and ploughmen.
Quamby's golf course is a rare gem on the Tasmanian golf circuit. Constructed in the early 1990's, this beautiful course is positioned on a high elevation with magnificent views to Ben Lomond in the East and the Great Western Tiers to the South.

Fairways are lined by large mature trees planted in rows with garden avenues, hedgerows, watercourses, lakes and ponds. This picture-book landscape offers a challenging and entertaining experience for golfers of varied ability and experience.

Tasmanian Heritage Register Place ID #4832

- top of page
| | |
| --- | --- |
| | |
| Hagley House | Meander Valley Landscape with Great Western Tiers |
Hagley, Tasmania

Village of Hagley, Tasmania

Blessed with rich red soil, the colonial village of Hagley is situated in the middle of some of Australia's best farm land.


Hagley House, Hagley, Tasmania




Hagley is a centre for hazelnuts, with numerous properties in the area dedicated to growing them. It has a population of around 150 people. Hagley is on the Meander River which, until the founding of Westbury in the early 1820s, was known as The Western River.




The town Hagley began in 1825 when William Lyttleton was granted 560 acres by the government. He named his land Hagley after his ancestral home in England. The town was gazetted in April 1866.



The first glimpse of St. Mary's Church at Hagley, an early colonial village west ofLaunceston on the Bass Highway, is among the most charming scenes in Northern Tasmania.



Sir Richard Dry, who had the distinction of being Australia's first Knight (1858), and Tasmania's first Speaker and native-born Premier (1866), laid the foundation stone for the beautiful St Mary's Church in 1861.




Sir Richard was buried in the grounds, but was later exhumed and reinterred in a vault under the chancel.

Lady Dry made many gifts to the church, including the fine east window, noted for its symmetry & colour. It depicts Guido's 'Crucifixion' from the Gallery of Florence.




Hagley is part of the Great Western Tiers Touring Route.
Hazelnut Trees near Hagley - Hazelbrae Hazelnuts
| | |
| --- | --- |
| St Marys Anglican Church & Grounds | Hagley Landscape with Great Western Tiers |
| Organ, St Marys Anglican Church | Tasmanian tiger maze in a crop at Hagley |
The village of Hagley has some particularly impressive buildings including Hagley House (2km East)
Quamby was the home of the first native-born premier of the state, sir Richard Dry. You can find his grave at St Mary's Church, which was built in the early 1860s.

Quamby has become the Quamby Golf and Country Club and boasts an 18-hole golf course.
45. Franklin House, 413-419 Hobart Road, Franklin Village, TAS, Australia
An excellent example of a two storey Georgian house built 'on spec' for Britton Jones, an early Launceston brewer and innkeeper in 1838-9.
It was purchased by Mr W.K. Hawkes who conducted a private school for boys for some 15 years.

A feature of the building is its scholarly Ionic porch.

The house was purchased by the National Trust in 1960, it became the birthplace of the National Trust in Tasmania, which was formed to save it, and is now also home to the Trust's State Office;.restored and opened to the public in 1961.
| | |
| --- | --- |
| Franklin House | Franklin House |
| File:Franklin House from road.jpg | File:Launceston House main image.JPG |
A large, classic Georgian house of brick and stucco. Main hipped roof. Projecting eaves, twelve pane windows above, fifteen pane below.
Front facade is stuccoed and has string course between two levels. Central front door has half sidelights and semi-eliptical fanlight. Entrance poritico has entablature and cornice supported on paired fluted Ionic columns.

House has two side wings at rear, two-storey gabled, single storey with hipped roof. Steep pitched verandah on back of house joins both wings.
Franklin House is convict built and located in northern Tasmania at Franklin Village, Launceston.
Built by former convict and successful businessman Britton Jones, Franklin House is notable for its rich use of imported Australian Red Cedar.

Extended to accommodate one of the colonies leading private schools which operated there from 1842 until 1866 the house finally became the birthplace of the National Trust in Tasmania in 1960.
Franklin House survives with house, stables and garden. Nearby and also accessible is St James Church which was built in 1845 and has many associations with the House.
The Tearooms are open during house hours for light meals and refreshments. The Metro Bus services, numbers 40 and 50 from the City to Franklin village, stop outside the House.

Opening Times: 0900 - 1600 Monday - Saturday and 1200 - 1600 Sunday. Closed Christmas Day, Boxing Day and Good Friday.
Read more: Wikipedia, Website

Tasmanian Heritage Register Place ID #

4388 - top of page
Charles Swanston occupied the property, which he renamed
New Town Park
, from shortly after his arrival in Van Diemen's Land in 1829 and purchased it in August 1832.
Swanston was an extremely powerful figure in the colony acting as an import and export agent for a number of firms, attracting large amounts of overseas capital for investment at high rates of interest, and becoming managing director of the Derwent Bank.

In 1835 Swanston formed the Port Phillip Association which supported John Batman's expedition to establish grazing properties in today's Victoria (this is why one of the main thoroughfares in Melbourne is called Swanston Street).

Swanston House was built in the mid 1830s by Thomas White and Henry W Seabrook, a building partnership responsible for constructing many of the principal residences in New Town.

Swanston was financially ruined by the economic depression of the late 1840s and New Town Park was advertised for public auction in February 1850. 'The much-admired, splendid, commodious, and most delightfully situated family mansion … suitable for a family of the highest respectability' was purchased by William Carter (c1796-1878), the first Mayor of Hobart.

The estate was purchased by the Tasmanian Government in March 1941. Crowther (1962) states that when the property was acquired it was 'complete with the earlier low wing and court yard. These have been demolished in planning the new obstetric hospital and nurses home but the Swanston mansion and granary have been retained.'

A fine, well proportioned Colonial home, probably built about 1832 by Captain Charles Swanston, who with JT Geuibrand was largely responsible for the formation of the Port Phillip association and the settlement of Victoria.
Successive owners include William Carter (Hobart's first Mayor), Henry Hopkins, Henry Cook and JW Whyte. The house and stables are now incorporated in the Hospital and Nurses Home.
| | |
| --- | --- |
| Swanston House and Stables | Swanston House and Stables |
| Swanston House and Stables | Swanston House and Stables |
Single storey
Colonial
stone house. Doric pilasters frame wall sections. Cornice and parapet.
Six panel (double door) entrance with half sidelights and eliptical fanlight. Pediment over entrance. Casement windows.

House comprises three hipped roof sections - now with unsympathetic tiles. Extensive additions. Adjacent two storey stone stables and attics. Undressed blocks to quoins. Two transecting gables. Windows replaced.

Tasmanian Heritage Register Place ID #

2762 as Swanston House - - top of page
New Town, Tasmania

New Town, Tasmania

Situated 4kms north of the CBD of Hobart Tasmania, New Town is one of Hobarts oldest suburbs.


The suburb of New Town is one of the earliest established parts of Hobart, and is Hobart's oldest 'suburb', having been settled within a week of the primary settlement at Sullivan's Cove. As such, the place encompasses a broad range of heritage places.

New Town TAS 7008

Ironically, New Town was named in the early days of settlement and the streets of New Town are lined with historic Federation style cottages, offering an insight into a bygone era.

It was during the 1820s and '30s that New Town further evolved. Here, 'individuals with capital became established in these rural residential environs, building their mansions and managing their large estates' (Pearce and Doyle, 1997: 15). The residences of New Town served a dual purpose of being either a country retreat for some, or a home reasonably close to the centre of Hobart for others.
Charles Swanston bought property known as New Town Park, stretching from New Town Rivulet, past Risdon Road and up along Main Road. The house "New Town Park" was built here, as well as a number of outbuildings once part of the estate, which still stand (Pearce and Doyle, 1997: 16).
Pearce and Doyle (1997: 16) argue that Swanston was representative of the capitalist class that became established in New Town. Many large estates were established in the area, including Henry Pearce's Poplarville, Pitcairn's Runnymede, Cawarra, Barrington, Carolside, Routs Tower, and John Mezger's Cliefden and Lauderdale (Pearce and Doyle, 1997: 17).
By 1840, New Town consisted of about thirty homes, a few general corner shops and an inn. While population data is difficult to find because of changing boundaries over time (Harris, 2003: 29), one indicator of growth is that horse-drawn omnibuses were introduced to the area in the 1850s to connect New Town to Hobart. This connection would have attracted more people to New Town (Scripps, 1993, 14).
Apparent within New Town are examples of early to mid nineteenth century settlement, with particularly impressive villas and mansions, once belonging to the social elites of colonial society examples including Runnymede, Swanston House and Lauderdale and Poplarville.
New Town retains a large collection of places demonstrating late Victorian, Federation and Interwar styles, demonstrating the strong urban growth during these periods, and the social structure of greater Hobart.
- Hobart City Council: New Town Heritage Review, April 2008
47.
Runnymede House, Stable & Gates 61 Bay Road, New Town, TAS, Australia
Runnymede House, Stable & Gates 61 Bay Road, New Town
The house was built for Robert Pitcairn, one of the first lawyers admitted to the Supreme Court of Van Diemen's Land and a leading campaigner against the transportation of convicts.
A beautifully preserved 1840 whaling captain's house and gardens, and a fine Regency stone home, the house includes a music room added by Bishop Nixon in 1850, a delicate trellis verandah of Huon Pine, delightful wooden entrance gates, original coachhouse and stables.

When Captain Charles Bayley bought the house in 1864 he named it Runnymede after his favourite ship. The Bayley family lived in the house for the next 100 years. Now dedicated to marine conservation, the house has a large collection of whaling and maritime items that belonged to Captain Charles Bayley and his family.

There are also historic artworks and possessions of the house's other owner, Francis Nixon, Tasmania's first Anglican bishop.
Runnymede House, Stable & Gates 61 Bay Road, New Town
The name of the house was changed from Bishopstowe (Bishop Nixon) to Runnymeade by Capt Charles Bayley (after one of his ships).

Runnymede is now owned by the Tasmanian Government and is on a 99 year lease to the National Trust.
Runnymede New Town, TAS
The historic Runnymede garden features many historic trees and plants.
Stroll through the beautiful rose gardens and orchards.

The house and gardens are accessible by guided tour (bookings advised) and there are also public and private events held at Runnymede throughout the year.

Captain's House and Garden Tour (one hour):
Tour the elegant 19th-century house and gardens with an experienced guide during a fascinating and informative 1-hour tour.
Take Tea with Harriet (35-minute Strolling Theater performance including tea): Step back in time to meet one of Runnymede's colonial inhabitants during a strolling theater performance with an actress who plays the whaling captain's daughter. During the 35-minute stroll through the house, hear about the Bayley family's life and times as you see the home through the eyes of the daughter as you enjoy a delicious light afternoon tea in the drawing room.
Runnymede Conservation Tour (1-hour tour followed by tea): Learn all about the magnificently restored house as you walk through the home and gardens with a curator or senior guide from the National Trust on an exclusive 'behind the scenes' tour that concludes with morning tea in the drawing room.
Read more about Runnymede Historic House and Garden Tour - Hobart

Opening Times: Tours run Tuesday to Friday at 1000, 1100, 1200, 1300, 1400 & 1500, and Saturday at 1230, 1330, 1430. Strolling Theatre is on Wednesday and Friday at 1500, and on Sunday at 1530. Closed July and August, Christmas Day, Boxing Day, New Year's Day and Good Friday.

Tasmanian Heritage Register Place ID #

2652

- top of page
Summerhome, from John Smith Collection-Early dry plates
48. Summerhome, 2 Hopkins Street, Moonah, TAS Australia
WINNER

Category 3 "

Best maintained privately owned house open to the public"
Summerhome, a
Georgian
mansion, was built in the 1840s as the summer home of wealthy merchant Henry Hopkins and his wife Sarah (their winter home was Westella in Macquarie Street).
Hopkins had arrived in Van Diemen's Land in 1822 and generated substantial wealth from developing the colony's wool trade and establishing a successful ironmongery business in Hobart.

Hopkins lived in Westella, a grand stone house in Elizabeth Street, Hobart that he had built in 1835.


Henry Hopkins, merchant and philanthropist (Hobarts first woolbuyer and exporter) credited with the foundation of Congregationalism in Tasmania.
Henry Hopkins with his family at his residence, Summerhome, Moonah (AOT PH30/1/5461)

Henry Hopkins, merchant and philanthropist

Sarah Rout, wife of Henry Hopkins

Westella Mansion

Westrella is a large colonial residence in the style of a Grecian Villa that is probably the finest remaining Georgian townhouse in Australia
Henry Hopkins (1787-1870), merchant and philanthropist, was born on 16 August 1787 at Deptford, England. He was brought up in a pious Nonconformist middle class home and had a sound business training, spending '16 years in the wool trade in England'. He married his cousin Sarah Rout and sailed with her from Deptford in the Heroine.

Hopkins arrived in Hobart Town in 1822 with a shipment of boots when they were in short supply. On 28 December 1825 Hopkins applied for a land grant, offering as qualifications his long experience in the wool trade and a capital of £2000. The application failed because he would not accept the required residence conditions, but as a townsman and trader he rapidly prospered.
He made a huge profit and invested the earnings in local wool for export to England. He had begun life in Hobart Town sharing a two-room house with an Earth floor with his wife. Read more On the Convict Trail.


About Summerhome

John Blackwell was granted 300 acres of land on the northern side of the New Town Rivulet in July 1821. Robert Wilkins Giblin purchased 165 acres from Blackwell in 1827 and built Claremont Cottage (today's 4-6 Webber Street).

In 1832 Giblin built 'an airy commodious house … expressly for a school of the first respectability' on his 165 acre property. The school was called the 'New Town Academy' but did not achieve great success and advertised for enrolments for the last time in January 1838.

Giblin had taken out a series of mortgages with Henry Hopkins in 1832 (presumably to pay for the construction of the New Town Academy) but had been unable to make the repayments.

In December1839, Hopkins agreed to cancel the debt in return for 129 acres of Giblin's property, including the New Town Academy building.
Hobart - Summerhome in_Hopkins_Street

Summerhome, near Hobart

Family on steps of 'Summerhome, near Hobart

---

---

Carriage outside 'Summerhome'




---
Hopkins enlarged the New Town Academy building to become Summerhome, a semi-rural retreat where he lived during summer.

When Hopkins died in 1870, Summerhome passed to his daughter, Martha, and her husband, The Reverend George Clarke. By bizarre coincidence, Clarke had been a student in the building when it was Giblin's New Town Academy.

Clarke leased out the house when he travelled to Europe in 1874 and there is a description of Summerhome in the newspaper notice – 'The house contains 16 rooms, besides kitchen. The outbuildings comprise a lodge, stables, cow sheds, coachhouses, washhouses, storerooms, diary, greenhouse, and every convenience usually found in a gentleman's establishment.'
Two storey brick and stucco Georgian house. Main facade of three bays with central entry, half sidelights and fanlight,
French doors with transom light opening onto single storey timber verandah. Ten pane casement windows to level two. Iron hip roof. Incorporates earlier cottage at rear. Adjacent brick gable outbuildings and stone outbuilding. Fine garden (extensive). Parapet and cornice to main facade.

When the Clarkes died in 1913, Summerhome passed to their daughter, Grace, and her husband, Arthur Walch.

Today, 170 years after Henry Hopkins acquired the property, Summerhome is still owned and occupied by his descendants.

Summerhome is noted for its formal garden, laid out in the 1850s; its conservatory; and its cathedral avenue of lime trees.

As the same family has owned it since it was built, there have been few changes, and the nineteenth-century wallpaper, furniture, servants' bells etc remain.

Tour Commentary given by Henry and Sarah's great-great-grandchildren, Margaret Hansen, Julia Johnson and James Alexander.

Tasmanian Heritage Register Place ID #1632

- top of page
Summerhome Garden, 2 Hopkins Street, Moonah, TAS, Australia
An excellent example of an intact early Victorian garden established as a summer home, from Hobart, in the days when Moonah was in the country.
The house and garden was created as a summer retreat by Henry Hopkins, a prominent early settler and business man. He and his wife Sarah were inspired by their travels through Europe and England in the early 1840's.

After retiring, they created the garden in the image of the grand gardens they'd seen in France and England.

He was so passionate about the place that he made it a condition of his will that the garden had to be maintained and passed it on to his daughter who he felt would take the best care of it.
| | |
| --- | --- |
| Summerhome Wisteria | Summerhome lychnis and lavender |
| | Summerhome Campanulas and myosotis |
Remarkably, over the years, that tradition continued, with the property passed down through the family, where today, it's in the hands of Henry's great, great, great granddaughter, Marg Hansen.
Highly significant in demonstrating intact a quality and style of landscape gardening which has almost disappeared.

Of particular importance is the huge parterre and the original glasshouse.

The plantings are very interesting, being a fine example of the Gardenesque, Victorian style with a good range of plants representative of the period (mid 19th Century).
ABC Fact Sheet: 'Summerhome'
The gardens are filled with an array of plants, many of which are original plantings. The parterre gardenis a formal and ordered garden, popular in Victorian times, when the garden was first created.
The Box hedge used in the garden (European Box - Buxus sempervirens). "This has been here for 160 years,"




A large Cabbage Tree - Cordyline australis. Marg explains: "There's a photo taken in 1859 when it was just a tiny little tree," she explained. "So it's 150 years old then", "I just love them. They've got this amazing texture to the bark. It's almost like an elephant's trunk or legs."




Part of the garden is known as 'The Wilderness' - an area filled with well established elms and ash. "Well it certainly lives up to its name. It's like walking through an English woodland. It's got these massive big trees like the oaks that give you a good amount of shade. This must have been a magical place to grow up as a kid". -

ABC Fact Sheet: Summerhome, Moonah Tas
Tasmanian Heritage Register Place ID #1632 (Summerhome entry) - top of page
Moonah, Tasmania

Suburb of Moonah, Tasmania

Moonah is a residential and industrial suburb, north of central Hobart, in Tasmania. It is part of the traditional territory of the Muwinina people.




Once the site of extensive orchards, Moonah began attracting migrant families in the second half of the 20th century, with its affordable housing, factory work and close proximity to central Hobart. A vibrant blend of culinary traditions now defines the local food culture.

Moonah is a residential and industrial suburb, north of central Hobart, in Tasmania. It is part of the traditional territory of the Muwinina people. Once the site of extensive orchards, Moonah began attracting migrant families in the second half of the 20th century, with its affordable housing, factory work and close proximity to central Hobart.

A vibrant blend of culinary traditions now defines the local food culture.

When British colonists began establishing farms at Risdon Cove, conflict soon erupted.
In May 1804, a group of about 300 Aboriginal men, women and children appeared at Risdon Cove, hunting a mob of kangaroos.

An argument erupted over a kangaroo shot by a servant, before the military commandant in charge of the settlement, Lieutenant William Moore, ordered the shooting of muskets and the firing of cannons filled with broken bottles and iron shards.

The deadly attack provoked a reprisal a few days later, when Aborigines used stones and clubs to chase away settlers collecting oysters from the riverbank.
49. Northbury Wellington Street, Longford, TAS, Australia
Built by Edward Archer in the Italian style, popular in Tasmania in the middle of the 19th century, Northbury was built in 1862.
Numerous members of the Archer family, politicians and local landowners were born in Longford.

Tens of thousands of acres have been farmed by Archer descendants, who remain central to agriculture in Tasmania.

The Archer family are a notable family in Tasmania, Australia, prominent in society, business and politics of Tasmania for the last two centuries. They are best known today for their now world-heritage listed farm estates, Brickendon Estate and Woolmers Estate, but have contributed to many areas of Tasmania throughout their history. Read more at Wikipedia
| | |
| --- | --- |
| Northbury | Northbury |
| Northbury | |
This fine Victorian Italianate Villa is in good order and intact, and features a three storey tower and arcaded loggia. The building has a good setting in the landscape.

Two storey brick and stucco Victorian Italianate Villa. Gable roof of slate - bracketed eaves.

Three storey square tower with round and square head openings in recessed panel with prominent sills.
Single storey arcaded loggia - arches with decorative keystones. Four, six and twelve pane windows. Bay windows. Two storey hip roof section at rear with twelve pane windows.
Tasmanian Heritage Register Place ID #5177 - top of page
A fine example of a large Victorian Italianate Town Hall in original and intact condition.
A typical Victorian building of painted stucco with Corinthian columns. It was designed by Peter Mills and erected in 1864.
Richly modelled facades and imposing two Storey colonnade make this a memorable building.

It is a building essential to the character of central Launceston + part of an historic precinct. The council chamber + Upper foyer remain as excellent interiors.
Large Victorian Italianate Town Hall of stuccoed brick, has parapet with finials concealing roof, and highly decorative entablature.
Eastern facade has giant colonade of Corinthian columns. Engaged Corinthian columns extend around the other walls.

Windows generally are arch topped and prominent ground floor windows are flanked by engaged columns supporting entablatures and pediments over.

Lower level panels between columns are imitation ashlar, rusticated. Two excellent interiors: council Chamber and upper foyer.

Tasmanian Heritage Register Place ID #

4547

- top of page
City of Launceston

Cataract Gorge Reserve, Launceston

Launceston, Tasmania

One of Australia's oldest cities, Launceston has one of the best-preserved early cityscapes in Australia with its elegant Colonial and Victorian architecture and century-old parks.


Just a short walk from the city centre, Cataract Gorge is a slice of wilderness right in the heart of town and Launceston's star natural attraction.

There's also plenty of culture on offer at art galleries, museums and design studios. The Queen Victoria Museum and Art Gallery is the largest regional gallery in Australia. The Museum is particularly known for its colonial art, decorative arts, Tasmanian natural history and convict collection.*

The Launceston

Chamber of Commerce

began in 1849 to boost the town's economy. Organised sports started, with a preference for boxing, rowing and horse racing. In 1851 Australia's first inter-colonial and first first-class cricket match was played at the Northern Tasmania Cricket Association ground, with Tasmania defeating Victoria.




Unemployment did not ease until the discovery of gold in Victoria during the 1850s. Launceston provided supplies and an exodus of the male population provided the labour force.

William Button was elected the first mayor when the Launceston Municipal Council held its inaugural meeting in 1853. A priority was the construction of an underground sewer to reduce disease.

The gold boom financed the St Patrick's River

water

scheme, solving the problem of fresh water to the township. It was commemorated with a new fountain in Prince's Square.

*


Gas lighting was introduced by the Launceston Gas Company in 1860, and the creation of the Marine Board in 1857 showed the growing importance of trade and the port. The small

Chinese

population increased from the 1870s.




The financial troubles of the Launceston and Western Railway,completed 1871, reflected the economic lull prior to the discovery of tin at Mount Bischoff and gold at Beaconsfield.*

The resulting financial boom aided migration and supported the birth of other industries,

Waverley

Woollen Mills and Salisbury Foundry for example.




Another legacy of the boom was the elegant Victorian architecture: a showpiece for the new city of Launceston, inaugurated 1 January 1889.


- from Companion to Tasmanian History
also known at 94 Meander Valley Road, Westbury Tasmania
Roman Catholic Church and a memorial to archdeacon James Hogan, the pioneer priest of the district. A landmark in Westbury.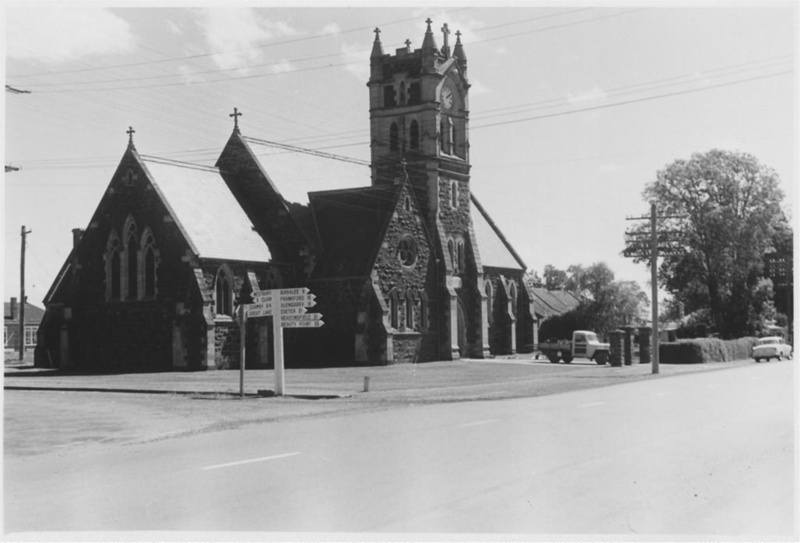 Bluestone Gothic Revival church with clock and bell tower. Bluestone from Ross.

Pipe organ bought in 1890's from Launceston exhibition for 500 pounds. Tower added 1901.

Tasmanian Heritage Register Place ID #

4852

- top of page
The Criminal Courts and Penitentiary Chapel building complex, dating from the 1830s, is historically significant.
It is directly associated with the early convict era in Tasmania, convictism having played a huge role during the first five decades of European settlement of the island.

It reflects the government's provision of religious instruction for convicts and the desire to separate free citizens from convicts during worship.

Later used as the city's criminal courts, the building has a long association with the administration of justice. The former chapel section of the building is one of the earliest surviving buildings in Tasmania, and the place is exceptional for its lengthy association with correction, law enforcement and prison religious activity. (Criterion A.4) (Themes 2.3 Coming to Australia as a punishment, 7.6.4 Dispensing justice, 7.6.5 Incarcerating people, 8.6.4 Making places for worship)
The building is important for being an example of Old Colonial Georgian architecture, as is seen in the symmetry of the main facades, the exposed brick walling and the medium-pitched hipped roof.
Additionally, it is one of the few examples of Georgian ecclesiastical architecture in Australia, and it is an exceptional example of this type of colonial building from the convict period. (Criteria D.2, B.2 and F.1)

Designed by John Lee Archer, the building is important for its association with this Irish-born architect who was Tasmania's Civil Engineer and Colonial Architect for eleven years. (Criterion H.1)

The patina of the masonry materials, together with the mature tree plantings nearby, contribute notable aesthetic significance, as does the tower which has streetscape qualities. (Criterion E.1)

Tasmanian Heritage Register Place ID #

2208

- top of page
Entally Estate
: the original house was built 1819 and modified over the following decades. The yards at the back have a number of farm buildings constructed over the same period, including this carriage house and stable building
Stables, Entally - click for more photos
| | |
| --- | --- |
| Entally Estate Stables | Entally House Stables Tasmania |
Entally House
Entally House is a lovely old house located in Tasmania's north at Hadspen. Entally House was the family home of Thomas Reibey who was the Premier of Tasmania from 1876 to 1877.
Entally Estate is named after a suburb of Calcutta, India, and built in 1819 for Thomas Reibey.

While he lived here he was reputed to have the most extensive library in the colony.

The house contains a magnificent collection of Regency furniture and fine silver. It is surrounded by superb gardens and grounds, in which there are a greenhouse, a chapel, a coach house and stables.
| | |
| --- | --- |
| Drawing Room at Entally House | Sheraton Dining Table at Entally House |
| Vestibule, Entally House, Tasmania | Governor's Wing at Entally House near Hadspen, Tasmania |
Private Operation of Entally
The state government called for expressions of interest in the colonial house, stables, chapel and vineyards in October 2013, after its decision to drop the heritage home from the Parks and Wildlife Service portfolio.
The tender process to find a private operator has attracted criticism from some groups, who believe the property should remain in public hands.

Tourism Northern Tasmania chief executive Chris Griffin said volunteers at Entally provided tourists with a significant historical experience, and he would be watching ``with great interest'' to see what happened under the new lease.

VIRGIN Australia co-founder and Quamby Estate owner Rob Sherrard took over the lease at the Entally House historic site in 2014.
Now operated by Van Dieman Land Estates, a collection of four properties across Tasmania, Entally Estate, Lake House, Quamby Estate and Low Head Pilot Station. The properties include luxury hotels and accommodation, historic sites, restaurants, cafes, a bar and wedding and events venues.
Mr Sherrard's company bought the Rutherglen Village site in September 2013, and renamed it Entally Lodge.
Rutherglen Holiday Village is located on the banks of the South Esk River just off the Meander Valley Highway directly opposite the National Trust property Entally House.
| | |
| --- | --- |
| Entally Lodge | Entally Lodge |
| Entally House Historic Site | North frontage of Entally House |
Now

Entally Lodge offers 20 newly renovated King Suites with Scandinavian

inspired, modern decor and each with their own brand new ensuite bathroom. Ideally suited for 2 people, the rooms can accommodate a maximum of 3 guests, including children and infants. The rooms are King Suites with 1 king bed, which can be split to make 2 singles on request.
Built in 1819 by Thomas Haydock Reibey, Entally House is one of Australia's most intact Georgian colonial homes.
Mary Reibey, Thomas' mother and matriarch of the family, was transported to Australia in 1790 for the crime of horse stealing, then aged 13. She would later marry a junior officer of the East India Company who established the Entally name as a successful trading company that owned a number of vessels running coal up the Hawkesbury River in New South Wales.

Following her husband's death in 1811, Mary became one of the richest and most successful businesswomen in Australia. Today, Mary is most recognisable as the face of the Australian 20 dollar note.
Entally House historic house museum
Entally House has been in continual operation as an historic house museum since the 1950s and remains open to the public 7 days a week, from 10am to 4pm.
The Entally Historic Site consists of Entally House and various outbuildings, including Australia's oldest Conservatory. The Estate encompasses grand, parklike surroundings with magnificent gardens and a vineyard, Regency furnishings, fine silverware and horse-drawn coaches and agricultural implements.

Hours:

10am-4pm Thursday to Monday (Closed every Tuesday & Wednesday) Closed for Christmas and New Year

Tasmanian Heritage Register Place ID #

4822 - top of page
Hadspen, Tasmania

Village of Hadspen

Hadspen is now considered a commuter suburb of Launceston. This is a little unfair as historically it had a separate identity and, now that it has been by-passed, the main street has rediscovered its nineteenth century ambience with the buildings, from the Church of the Good Shepherd to the Red Feather Inn, being a reminder of the town's historic roots.


A small bonus is the rich history of the village of Carrick located 6 km further west along the Meander Valley Highway.

Location


Hadspen is located 12 km south-west of Launceston via the Bass Highway and Meander Valley Highway.

Hadspen was originally known as Reibey's Ford. It was named some time before 1836. The name is believed to have been given to the settlement by the surveyor, George Frankland, who came from Somerset in England where there was an estate named Hadspen.




Entally House

The story of the Reibey family is one of the great success stories of early Australia. From convict to owner of one of Tasmania's most impressive Georgian houses in one generation and, by the second generation, from convict to Premier of Tasmania, is an achievement which tells the story of the way many convicts saw transportation as the possibility to start a new life.

Thomas Reibey, who built Entally House, was the eldest of three sons of Mary Reibey. His son, Thomas Reibey III, was Premier of Tasmania from 1876-1877.
---
Australia's Architectural Styles
From a deleted page by Heritage Tasmania and from the Wikipedia page Australian residential architectural styles
Old Colonial c 1788 - c 1840
| | |
| --- | --- |
| Ross Bridge | Port Arthur Historic Site |
| Richmond Council Chambers | Longford House & Barn |
Colonial Architecture
is the term used for the buildings constructed in Australia between European settlement in January 1788 and about 1840.
Most buildings erected in the first 50 years of Australian settlement were simple and plain.

Australia's first settlers built simple houses using building materials available to them such as clay, bush timber and stone. Roofs were thatched or shingled.

Convict huts, marine barracks, government stores and houses for officials were simple rectangular prisms covered with hipped or gabled roofs often with verandahs supported on wooden columns in the Classical manner.

They were influenced in particular by the regulation British military buildings in India and other tropical locations.
Georgian
In Australia, the Georgian style was simplified and restrained, possibly as a response to the social and environmental circumstances in which the settlers found themselves.

Typical houses of the period were made with a hipped roof and a verandah. This style was so appropriate to the new colony that it was used throughout the 19th century for many homesteads.
At the time of the first settlement,
Georgian architecture
was the architectural vernacular in Britain.
A typical Georgian house of the 19th century was simple, elegant and formal in style.

The cottages they built were simple, influenced by the Georgian architecture popular in Britain.

Towards the end of the period, the ordered classical lines of Grecian architecture were being introduced, especially where a powerful look was called for.In contrast, other architects were following their emotions and looking back to the romantic style of medieval England. This Gothic style was often used for churches.
| | | | |
| --- | --- | --- | --- |
| | Quamby house is a single storey Georgian house | Blenheim, 16 High Street Evandale | Oakington Circa 1840, with Picturesque Harbour Outlook |
| | Franklin House | 'Cawood', Ouse, Tasmania; Unknown; 1963; TSO00018184 | Quamby Managers House, Westwood Rd, Hagley, TAS |
The 1820s and 1830s was a period of expansion and prosperity for the Tasmanian colony. The buildings of this period reflected that prosperity, with architectures introducing subtle classical detailing. The style is commonly called Colonial Regency
Wingfield Garden

---

---

Swanston House and Stables

Runnymede House, Stable & Gates 61 Bay Road, New Town

Governor's Wing at Entally House near Hadspen, Tasmania
Victorian c 1840 - 1890
The term 'Victorian' refers to the reign of England's Queen Victoria, which began in 1839. It is divided into Early Victorian (1840-1865), Mid Victorian (1865080) and Late Victorian (1880-1890)
Australia was growing from a convict outpost into a strong economic contributor for the United Kingdom. Agriculture, sheep, cattle and the discovery of gold in the eastern states led to an increase in the number of free settlers searching for wealth.

The architecture of the period reflected the confidence, progress and prosperity of the young colonies.

Differences from the earlier styles reflected new and better materials being available. Corrugated iron replaced the shingled roofs of the Colonial era and glass was being produced in larger sheets.
| | | |
| --- | --- | --- |
| Mona Vale Homestead, Chapel, Cottages & Outbuildings | The Cottage, Kempton | |
Italianate
Main article: Italianate architecture
| | |
| --- | --- |
| Town Hall Launceston | Northbury, Longford TAS |
The Italianate style developed as a result of French painters who idealised the Italian landscape and turned it into their version of Arcadia.

Their influence was long-lasting and eventually led to the Italianate architectural style of the 19th century.

The style featured asymmetry and, usually, a tower of varying size.

In Australia, the addition of the verandah, sometimes arcaded but later in Filigree (wrought iron), gave a regional flavour to the style.
Rustic Gothic
See also: Gothic revival architecture
| | | |
| --- | --- | --- |
| Cawarra & Grounds | St Marys Anglican Church & Grounds | |
The Rustic Gothic style developed out of a "cult of the picturesque" which largely focused on rural images and especially the picturesque "rustic house", which became known as the

cottage orne

.

In Australia, this style had a great appeal to British settlers who still carried with them a hankering for things English.
| | |
| --- | --- |
| Old Colonial Gothic Picturesque - Conservatorium of Music, Sydney, designed by Francis Greenway | St Matthias Anglican Church, at Windermere |
While Georgian and Regency styles continued to be used for public buildings seeking to reflect wealth and power, Gothic styles were still the choice for churches.
Gothic Revival
1840–1880
Originally Gothic Style was for God, and Classical Style for the man.
Later a new "self-made" Australian began to emerge, unhindered by a classical British education dictating classical gentlemanly interests.

This "new" self-made man (like his contemporaries in Britain) would often choose Gothic as the design for his home.
| | | |
| --- | --- | --- |
| The Grange | Orphan School, South wing | |
| Ivylawn 1260 Westwood Road, Hagley, TAS | Church of Holy Trinity, Westbury | |
Federation c 1890 - 1915
Federation refers to the movement to join the six Australian colonies into one nation, which happened on 1 January 1901.
The Federation style is perhaps the most easily identified Australian architectural style.
Despite new-found national pride, architects still took ideas from overseas and the many fluctuating fashions of the time, resulting in 12 distinct styles for the period.

Classical styles continued to be used for public buildings that needed to express authority, power, wealth and culture. The Gothic style was still used for churches, though later in the period the Romanesque style popular in America was favoured.

For the domestic home, Queen Anne, Arts and Craft and the Bungalow were the choice of the day.

Roofs were predominantly galvanized iron, although there was an increasing use of terracotta tiling. With this increased use also came the introduction of decorative ridge tiles, finials and the roof ornamentation commonly seen in the Queen Anne style.

Following the international Arts and Craft Movement, decoration became more important. Cast iron was out of fashion, but ornamental woodwork became popular. Brickwork incorporated detailing around windows, doors and chimneys. Leadlight windows became more common, but the veranda became a simple entry porch.